Sale!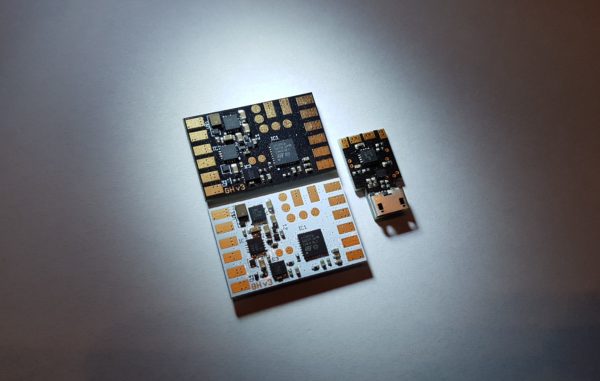 Includes 19% VAT
Delivery Time: available for immediate delivery
Additional costs (e.g. for customs or taxes) may occur when shipping to non-EU countries.
---
This bundle comprises one GH v3 and one Seedling. If you choose "white" or "purple", only the GH v3 will be white or purple. The Seedling is only available in black.
Bring your own custom lightsaber alive by giving it a Golden Harvest heart! Allow us to provide you an unique experience and lift you into another galaxy! This is the Golden Harvest v3 and Seedling USB Module Bundle adding USB charging and file transfer to your golden experience! Using the Seedling USB Module you can charge a single Li-ion cell with up to 1.4A either via wall adapter or USB port of your computer. A smart charging algorithm automatically detects the maximum charging current your power source can provide and limits it to this amount. The Seedling USB Module contains a safe charging circuit. However, do not let your saber charge unsupervised! Safety always first! Please make also sure to use a protected 18650 Li-ion battery. For safe charging, use a Panasonic NCR18650B or Keeppower 18650 Li-ion battery. The Seedling USB Module can get very hot when you are charging at 1.4A due to its tiny dimensions (smaller than 11 mm x 19 mm / 0.433″ x 0.748″). It has an overtemperature protection, but please make sure that the environment in which you want to use it can handle high temperatures. Additional important information can be found in the manual of the Seedling. Please make sure to read it.
The popular online configurator of the old version of the Golden Harvest will soon be available also for the GH v3 including a preview animation for Neopixel effects! To check out the full set of features of our Golden Harvest board, click here (it would have blown this page if we listed them here).
The Quick Setup Guide and the manual can be found in our downloads section.

All boards are fully tested before shipping. We cannot be held responsible for any damage that arises from a faulty install or use of the board.
© Box lightsaber illustration by Slothfurnace.